Soft Washing Roofs For San Antonio Properties That Look Their Best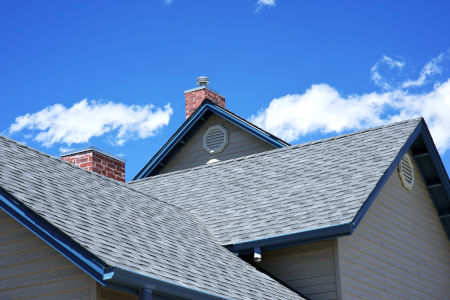 The most common reason for a soft roof cleaning is gloeocapsa magma (algae), better known as the algae that will leave streaks on shingles while taking nearly ten years off of the life of a roof. This awfully destructive algae thrives in our climate because of the humidity in the air, which makes the perfect habitat for your roof. This can lead to leaks, rot, as well as a general loss of integrity of your roof.
Our soft wash can offer not only a solution but protection from this algae, plant matter build-up, and several other kinds of mold. Soft washing a roof is the only proven and effective way to get rid of the algae, with a combination of soaps and bleach.
Soft Washing Is The Only Way To Clean Your Rooftop
Roof cleaning is tricky, and not just because of the heights. The materials that line your roof's exterior can be easily damaged by high pressure or heavy impact. For this reason, pressure washing, at least at the PSI needed for driveway or sidewalk cleaning, is unsafe to use for roof cleaning- unless you want busted, shorn shingles and a waterlogged roof!
That's why we say that soft washing is the only way to clean your rooftop. When you have an experienced soft washing technician that knows what they're doing, you don't need ultra-high pressure to blast stains away. Our low-pressure cleaning gently- but completely!- works out stains, growth, and mess until your shingles are back to square one, safe and clean once more!
Roof Cleaning Specialists To Thoroughly Care For Your Property
Even better, keeping your roof and property's exterior surfaces properly clean results in the following benefits:
Protected windows
Long-lasting siding
Preserved landscaping
Dry foundations
No Ponding
Bottom line, a clean and functional roof prevents water from damaging the side of your home and from ponding in dangerous places on your property.
The Benefits Of Roof Washing For Your Home Or Business
Roof cleaning isn't an expense but an investment that will save you a fortune in the long run. Roof shingles aren't invincible, after all, and they need to be maintained if one plans to get the most use out of them. Professional roof cleaning by Grizzly Solutions is the best way to maintain your roof so it can last you for many years to come.
Roof Cleaning To Thoroughly, Gently Wash Your Roofs
As a San Antonio homeowner, we know you value your home's appearance from top to bottom. Our roof cleaning helps you keep the top of your house clean.
Your roof is as vulnerable to build-up as any other surface on your home. It shields you and your loved ones from the harshest of weather conditions.
Those harsh weather conditions can cause dirt, grime, algae, moss, and mildew to accumulate even quicker. This makes your roof vulnerable to damage if it isn't taken care of.
We recommend annual or bi-annual roof cleaning to ensure that your shingles don't get too damaged. Moss can crack and lift your shingle, leaving them vulnerable to being blown away by heavy winds and other intense weather conditions.
Broken shingles will result in unwanted expenses due to having to get them replaced. If they're not replaced, your roof will be compromised, leading to leaks and other damage to your home.
Our roof cleaning ensures that we will remove harmful substances from your roof. We provide pressure washing for San Antonio residents who want to take care of their homes, and our excellent cleaning extends to our roof cleaning.
Protecting Your Rooftop With Superior Roof Cleaning Services
The pollutants that are found on your roof can be pretty nasty. When those pollutants are left to their own devices, things can get pretty hairy. You can run the risk of health issues developing, as well as your roof and home suffering from structural issues.
You can avoid all of this by choosing to invest in roof cleaning services. This service will completely clean your roof while also getting rid of the nasty stuff that weighs it all down. Your roof will not only look better but be healthier in the long run.
As with most of our residential pressure washing services, we recommend that homeowners invest in this service at least once per year to best maintain and preserve the integrity of their roofs.
Soft Washing Roofs To Best Maintain Rooftops
While traditional power washing proves too abrasive for roof surfaces, you can always rely on soft washing to get the job done without causing damage. Soft washing is a milder cleaning approach that uses gentle water spray and eco-friendly cleaning detergents to remove impurities. Instead of blasting through dirt and grime with high-pressured water spray, our team will apply soft washing to give your roof the deep clean it needs without putting strain on any of its components.
Enhance Your Home's Appearance With Roof Cleaning
When your roof is covered in algae, moss, and debris, it brings down the appeal of your home and detracts from its value. Routine roof cleaning by Grizzly Solutions reverses this problem and helps improve your home's outer appearance dramatically. Our roof will remove bird droppings, dead leaves, tree sap, algae stains, lichens, and any other eyesore present to brighten the look of your roof in just a matter of hours. You'll have a roof that looks good as new with one quick, convenient service by us! Call today for roof cleaning and more in San Antonio.
Services We Offer Aside From San Antonio Roof Cleaning
Building Washing
Commercial Pressure Washing
Deck Cleaning
Dumpster Pad Cleaning
Fence Washing
Graffiti Removal
Gutter Brightening
Gutter Cleaning
House Washing
Roof Cleaning
Solar Panel Washing
Storefront Cleaning
Window Cleaning
Frequently Asked Roof Cleaning Questions
Roof washing is a professional pressure washing process that removes dirt, mold, and other debris from the surface of a roof. It uses a combination of low pressure, high pressure, and specialized cleaning agents to safely and effectively clean the roof.
Professional roof washing is a safe and effective way to clean your roof. It ensures that your roof is cleaned properly and that no damage is done to the roof in the process. Professional roof washers also use specialized cleaning agents and techniques that can help to make your roof look better and last longer.
Yes, most professional roof washers can clean asphalt, wood shake, and other types of shingles. It is important to make sure that they use the proper techniques and equipment, as well as the right cleaning agents, to ensure that no damage is done to the shingles.
Professional pressure washing companies have the experience, knowledge, and specialized equipment to safely and effectively clean your roof. They also use the proper safety equipment and techniques, and they use the appropriate cleaning agents and equipment for the job. Hiring a professional pressure washing company for roof washing ensures that your roof will be cleaned properly, safely, and effectively.
DON'T WAIT! GIVE OUR SAN ANTONIO PRESSURE WASHING PROS A CALL TODAY!